To stop the roaches from eating him dry, Oggy orders a food dispenser and stores all his edibles in it. But when Oggy realises that the roaches have managed to sneak into the machine, war is declared!

Official Synopsis, [1]
The Food Dispenser is the 67th episode of Season 7.
Plot
Episode starts: Oggy is listening music and becomes hungry and goes to the fridge. Only to be treated to an empty fridge by the cockroaches, as the cockroaches fled to avoid getting swatted by the cat. Joey throws a Oggy coin at Oggy.
Oggy then goes to get foods from the vending machine, as the cockroaches look on to see what the cat is doing. Oggy tosses the coin from Joey and gets a sandwich from there, the cockroaches are aroused by this.
The cockroaches then attempts to get foods from the vending machine, Marky attempts to get some by inserting a button into the machine, only for it to be discarded by the machine as it hits him. Realizing their sizes, the cockroaches were able to get into the vending machine with no trouble.
As Oggy grows hungry, he goes to get foods from the vending machine, only for the cockroaches to eat everything he tries to get from the machine. After Oggy spots one of the cockroaches, he attempts to open the door, only for it not to open, due to one of the cockroaches removing the door.
To be finished.
Gallery
Video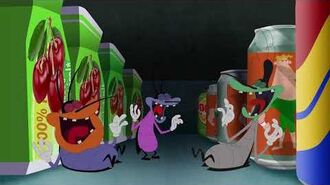 References
Community content is available under
CC-BY-SA
unless otherwise noted.