Oggy and the Cockroaches is an upcoming comic book series published by American Mythology. Originally slated for release in the summer of 2019, the first comic of the series will be released on November 6th, 2019.
Oggy and the Cockroaches #1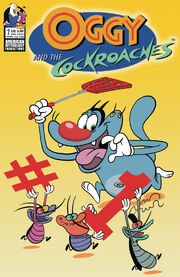 Released: November 6th, 2019
20,000 Cockroaches Under the Sea
Oggy finds a cockroach Atlantis in the depths of his bathtub.
A Bump in the Night
The cockroaches turn Oggy's scary movie night into an actual horror night.
Oggy and the Cockroaches #2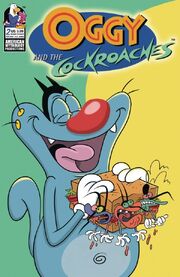 Released: January 1st, 2020
Unhealthy Competition
Oggy's trip to the grocery store turns chaotic once the cockroaches arrive.
Culinary Cat-astrophe
Oggy tries out for a cooking TV show.
Sources
Community content is available under
CC-BY-SA
unless otherwise noted.