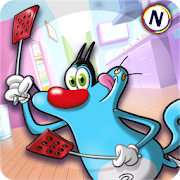 Oggy 3D Run is a 3D endless running video game developed and published by Nazara Games. It is currently available in certain regions. This game is all about running at full speed and avoiding obstacles and traps set by the cockroaches while collecting coins to unlock and buy amazing power ups like Jetpacks, Skates, Magnets and many more and blaze through the levels to catch the cockroaches to win and complete the levels faster and easier. It is similar to Temple Run and Subway Surfers two well known famous endless running video games.
About this game
This is a third game, developed by Nazara Technologies Ltd in a deal brokered with Xilam and licensing agent, Dream Theatre. Nazara launched a raft of new captivating mobile games for younger audiences that underscore the hilarious, entertaining brand values of Oggy & the Cockroaches. This game have been released on April 18, 2019 via Google Play Store release date.
Key Features
Complete 3D world
Play with various Oggy avatars
Multiple environments to play in
Chase the cockroaches and collect Food & Coins.
Over 100+ levels to unlock.
Use skates & other power ups to move faster.
Daily Prizes to Collect.
Unlock Characters
Caveman Oggy
Cowboy Oggy
Magician Oggy
Pirate Oggy
Super Oggy
Watson Oggy
This game also made customizable characters to your needs.
Android Permissions
This game does not store any personal information and does not allow you share this information. This game will do require a few additional permissions to function:
1. READ_EXTERNAL_STORAGE & WRITE_EXTERNAL_STORAGE
These permissions are needed to cache and read ad content during the game play
2. ACCESS_COARSE_LOCATION/READ_PHONE_STATE/ACCESS_FINE_LOCATION
These permissions are needed to show suitable ad content for targeted user for better ad experience
3. RECORD_AUDIO
This is required for zapr SDK which is integrated with this app for the purposes of profiling the device on media consumption and other device data and utilizing the same to target relevant content and ads to the device ("Services") pursuant to the terms and conditions of RBL Services ("Terms of Use")
4. GET_ACCOUNTS
This permission would use your Google account name and picture to show it on the leaderboard once you sign in
Gallery
Download
You can download this game here on Google Play store
Community content is available under
CC-BY-SA
unless otherwise noted.